The Cubing Corner
5 Reasons why dinosaurs
can be your best friend!
Rubik's Cube in Music
The Rubik's Cube has always inspired different kinds of artists, including musicians. A quick search on one of the music streaming applications will fetch a lengthy list of singles that are named after the cube.
However, there is more to music, and a keyword search alone will not do justice to the many artists who surreptitiously make references to the Rubik's Cube either in their videos or lyrics. While some musicians make subtle references to the cube, others have sung tributes to this eternally popular puzzle.
In this article, we take a look at some of the popular songs and music videos that feature the Rubik's Cube.
1. Spice Girls – Viva Forever
Those who grew up listening to pop music in the 1990s will remember the Spice Girls' hugely popular Viva Forever. The single music video features the Rubik's Cube in its surreal glory: a boy climbs up the cube and vanishes into it forever. Steve Box, the director of the video, explained in an interview that the video is about the loss of childhood and growing up too quickly in a commercialized world.
2. Jennifer Lopez – Ain't Your Mama
In this empowering song about feminism, Jennifer Lopez alludes to male mediocrity with the Rubik's Cube acting as a symbolic device. Midway through the music video, J.Lo snatches the cube from a man who has been trying to solve the cube for a very long time and completes the puzzle in a fraction of a second. This is a direct reference to the importance of acknowledging women's intelligence and talent.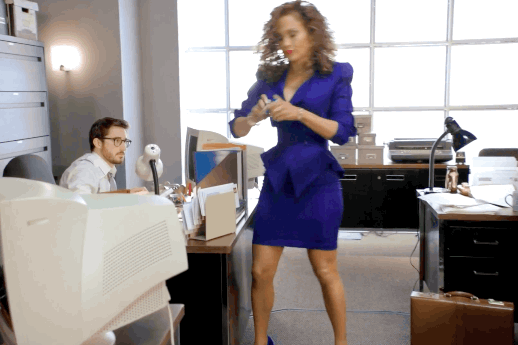 3. Magic Box – If You
The special effects, aesthetics, and graphics in this video are inspired by the Rubik's Cube. This Italo dance tune has a certain 1980s vibe to it, which reminds us of the early days of the Rubik's Cube's popularity. Although the tune sounds dated, it still sounds vaguely appealing and quite danceable.
4. The Barron Knights – Mr. Rubik
This rather quirky track features a conversation between St. Peter and a man who has just passed away and is waiting at the Gates of Heaven. The man recounts how hard it was for him to solve the cube while he was alive. Originally written as a humorous pop-rock song, Mr. Rubik has achieved a cult status today among cubers.
5. Genesis – Land Of Confusion
You might know Genesis by their more famous single A Home by the Sea. This English rock band is known for it's interesting videos, and the Land of Confusion briefly features the Rubik's Cube. In the song's video, Mr. Spock from Star Trek, who is unable to solve the cube with a screwdriver, simply discards it.
6. Athlete – Rubik's Cube
This mellow song ponders over life's difficulties and complexities, and how each individual has to fight against many odds. The lyric features the Rubik's Cube and uses it as a metaphor for a life that needs to be solved. The singer insists he will eventually figure out the puzzle of life.
7. The Lonely Island Ft. Linkin Park – Things In My Jeep
The Lonely Island are famous for their humorous songs and videos, many of which are quite over the top. In Things In My Jeep, the music duo team up with Linkin Park to rattle a list of things they keep in their jeep, including a Rubik's Cube
8. El Michels Affair – Rubix
Leon Michels wrote this instrumental funk piece inspired by the moody rhythms of the 1960s and 70s. Rubix features in the band's Adult Themes album, which has achieved critical acclaim. While one can't truly guess why this single is named after the Rubik's Cube, it certainly is a meditative track that leaves you grooving gently to its beats.
Music and the Rubik's Cube – a lasting bond
Music has the power to bring people from different backgrounds and cultures together. The Rubik's Cube shares this quality with music, as it has universal appeal. Not surprisingly, there are many songs and music videos that feature the Rubik's Cube.
While most musicians make allusions to difficulties, problem-solving, and intelligence, others simply use the cube as a prop in their music videos or casually mention it in their lyrics. In the future, one can expect artists to release many more songs and music videos inspired by the Rubik's Cube.
You might also like